TRIGGER WARNINGS: misogyny, sexual violence, victim blaming, swearing/obscenities, religious violence, objectification, physical violence (including bladed weapons and fire)
The CW is probably the most feminist television network in the US—or if not, it's certainly the network that puts the most effort into attracting female viewership. The CW's incoming president recently told
TV Guide Magazine
that "our sweet spot is women 18–34", and of the network's ten shows, nine have as regulars, if not as stars, strong female characters.
Nikita
in particular has two female leads and two more female regulars and makes an effort to pass the Bechdel test[1] every week; too many shows on other networks have only one female lead, or female leads who don't talk to each other, or who talk exclusively about the male leads.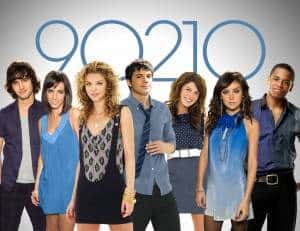 Check out this 2008 promo pic for
Gossip Girl
, and this 2009 promo pic for
90210
. The female characters actually take center stage, and
outnumber
the men!
So why does the CW air
Supernatural
when
Supernatural
has no female leads? Probably because it's popular with the ladies, consistently pulling in two million viewers, even with its lead-in
Smallville
and ahead of everything else the CW airs bar
The Vampire Diaries
and
America's Next Top Model
. Judging by the demographics of convention attendees and fanwork creators (who are almost entirely women, predominantly queer women), Supernatural has great appeal for women.
Women watch
Supernatural
for a variety of reasons. There's the premise of the show. It's all about two brothers, Sam and Dean Winchester, and the 1967 Chevrolet Impala they call home, in a different town every week saving people and hunting things (the family business)—things ranging from the vengeful spirits of the restless dead to Lucifer himself.
Supernatural
deals with American folklore and legends, from the wendigo (an Algonquin legend) to the
Ancient Indian Burial Ground
trope, from the vanishing hitchhiker to Bloody Mary, and that's just early season one. In later seasons, the focus shifts to Christian mythology, specifically demons, hell, angels, heaven, and the Book of Revelation apocalypse complete with the horseman War riding, er, driving a red Mustang.
Play Goes Strong
describes the show as "one of the three or four smartest shows on TV", and I believe it. Most people don't grapple with the question of free will versus destiny, never mind most television shows, but
Supernatural
does.
There's the complexity of the characters and their relationships with one another. For one example, the hypermasculine Dean is the maternal figure in the Winchester family.
There's the completely shallow reasons to watch: the regulars, Sam (Jared Padalecki, center), Dean (Jensen Ackles, left), and the angel Castiel (Misha Collins, right), are smoking hot.
So, for that matter, are the female recurring characters. (The CW does love its pretty people.) These ladies, to name a few who jump immediately to mind.
The occasional sex dream or one-night stand or alternate universe aside, of those eight, only Mary and Ruby are in romantic relationships with other characters on the show. Not a one of these female recurring characters is defined by her romantic entanglements. This is far too rare a thing in visual media.
So
Supernatural
is a feminist show. There's no arguing that. Right?
Unfortunately, there's what
Supernatural
does to its recurring female characters. Of all the recurring female characters on the show, only two survive, Meg (our longest-surviving antagonist) and Lisa (Dean's girlfriend). Nearly every one of the recurring female characters got fridged.
Most people I know have heard of fridging, at least in passing. The
trope namer
is from
Green Lantern
vol. 3, in which the title character discovers his girlfriend's corpse in a refrigerator.
Fridging a woman, by analogy with the trope namer, is killing her off, usually in a particularly violent manner, solely for the angst of the male character with whom she is most closely associated. Opinions differ, I've discovered, on whether the concept is inherently gendered or simply applied in a highly gendered way. TV Tropes mentions "For a gender flip, Mystique killed Ms. Marvel's boyfriend while disguised as her", but whether Ms. Marvel's boyfriend was fridged or simply killed in a manner paralleling a fridging I leave to the reader.
Supernatural
has a bit of a problem with fridging.
Meg has not, of course, been fridged; she isn't dead. Bela wasn't either, though she was killed off due to unpopularity with the fans: her character and her character arc were always solely about her own goals. (Not coincidentally, Bela is one of my favorite characters.) Anna's character arc was always about who she is, independent of any other concerns. Pamela died because she made a decision she knew was risky but right, in keeping with her own character; the emotional impact on Sam and Dean is secondary. Ruby's character arc was more centered on the men in her life than Bela's and Anna's, but in the end her death was the natural result of her successfully attaining her ambition, one contrary to the objectives of Sam and Dean.
But let's start where
Supernatural
begins, with "Pilot" and the first two female recurring characters, Mary Winchester and Jess Moore.
Until the season four episode "In the Beginning", all we knew about Mary was that she was the mother of Sam and Dean and the love of their father John's life, that she believed in angels, that she died bloody and screaming in a fire in Sam's nursery, and that she knew the demon who killed her. Drop the 'mother' bit and substitute 'Sam' for 'John', 'apartment' for 'nursery', and 'crucifix and Our Lady of Guadalupe candle at her grave' for 'believed in angels', and that's all we know about Jess. Almost: she baked and she attended Stanford. We know more about Mary now and we can extrapolate more about Jess, but really, that's it. For three seasons for Mary, six and counting for Jess, everything relevant about Mary and Jess could be summed up in these two images, linked instead of displayed with a trigger warning for violent death:
Mary
and
Jess
.
The entire relevance of these two characters was to die, stabbed in the gut and burning on the ceiling. It was Mary's death, after all, in an obviously unnatural way, that sent John Winchester on the road with his sons searching for answers and revenge, and Jess's identical death twenty-two years later to the day that sent Sam Winchester on the road with his brother searching for the exact same thing.
Mary wasn't fridged, I think. 'Killed by demon' strikes me as a fitting conclusion to the arc that begins ten years earlier in "In the Beginning" with 'sells an unspecified something to demon in exchange for a life, payment due in ten years'. So looking at Mary's character arc chronologically instead of in episode airing order, Mary wasn't fridged. Opinions do differ, however. The key factor on the 'yes Mary was fridged' side of the debate is that, for three seasons, we were allowed to believe that Mary's character was, as Jess's character is, a placeholder, living but to die and thereby create the emotional distress that drives the preseries and first-season plot.
Jess, though? Jess was fridged. Vividly so. Explicitly so. The demon who killed Jess said so in as many words. "You [Sam] were becoming a mild-mannered, worthless sack of piss. So I hooked you up with a pure, sweet, innocent piece of tail. And then I toasted her on the ceiling." Being gutted and burned while her boyfriend watched was and remains the entire purpose of Jess's character.
Lisa Braeden, significant other to Sam's brother Dean Winchester, isn't fridged because she doesn't die, but we get this lovely image in "Exile on Main St." nonetheless, again linked instead of displayed with a trigger warning for violent death:
Lisa
.
There's one more parallel between Mary, Jess, and Lisa. Until the moment of the woman in question burning on the ceiling, or in Lisa's case appearing to, the Winchester in question is living what
Supernatural
repeatedly refers to as a "normal, apple-pie" or "white picket fence" life: Sam and Dean's father John a mechanic, part owner of a garage, happily married to Mary and raising their sons; Sam a pre-law student at Stanford living with Jess, whom he intends to marry; Dean a construction worker living with Lisa, who saved his life, and helping her raise her preteen son. Then the woman burns on the ceiling, and that's it, that's the end of normalcy for the Winchester family: the man packs the car trunk full of weaponry and hits the road. The women's life is that of safety and civilization; it's the men's lives we're interested in.
And then there's Ellen and Jo Harvelle, hunter friends of the Winchesters. Ellen's fridging by fire comes via an explosion, moments after the death by gut wound (there it is again) of her daughter Jo. (Who is, incidentally, a young pretty blonde woman, just like Mary and Jess.) Ellen and Jo are less obviously fridged than the others, because both have character arcs that involve hunting the supernatural, but we knew the moment they and the effectively-immortal Winchesters set off on a suicide mission that the Harvelle women were done for. Their deaths served no purpose but to ramp up the drama; they're name-checked in three later episodes, but that's it for over a season until, just for fun, Ellen and Jo get fridged
again
.
You heard me. A recent episode, "My Heart Will Go On", has an alternative timeline in which Ellen and Jo don't go on that suicide mission. But because Fate Cannot Be Contravened (except when she can be), by the end of the episode they're dead again. This time, we get told how awful it would be for Ellen to be dead. How awful, that is, for Ellen's husband. Never mind what it would be like for Ellen herself.
Ellen's husband in "My Heart Will Go On" is Bobby Singer, friend and substitute father to Sam and Dean, as Ellen is their friend and substitute mother. Bobby's first wife, Karen, is another excellent example of fridging: her preseries death by demon, like Mary's, is what propels Bobby, like John, into hunting. Karen is brought back in "Dead Men Don't Wear Plaid" for a second fridging, again at Bobby's hand, again because Karen is a monster: the first time, she was possessed by a demon, and the second, well, it's only the male characters on this show who get the luxury of coming back from the dead without consequence.
There is a long list of male characters on
Supernatural
who are resurrected without ill effect. Sam and Dean Winchester, for starters, several times apiece. Their father John; that's the life Mary sold her own for. Bobby Singer and the Winchesters' angel friend Castiel. For female characters resurrected, there's Ellen and Jo Harvelle in "My Heart Will Go On" and, in "Dead Men Don't Wear Plaid", Karen Singer and a handful more people; only one of Karen's fellow zombies has lines (this one is, of course, a man), and all of them including Karen have, as a result of their resurrection, an intense desire to eat people's faces off.
At least there are fewer female zombies than male in "Dead Men Don't Wear Plaid". In some episodes, no women die at all, such as "Wendigo" and "It's a Terrible Life". But in "Wendigo", of the fourteen speaking characters, only two are female, and of those two, only one has more than a single line; in "It's a Terrible Life", we see one female tech-support worker and hear of one "GMILF" ("grandmother I'd like to..."), neither of whom speaks, and that is the sum total of the female presence in the episode. (To hell with the
Bechdel test
,
Supernatural
's writers have apparently said.)
Sexist language is also a significant part of the show. Hardly an episode goes by,
at least since seasons one and two
, without somebody calling a woman a bitch or saying "son of a bitch" or such phrases as "witches are whores" or "first [we killed] John's cop friend, and then his slut, and then his son". The worst part about the latter two is, in both cases, the speaker is female, expressing self-loathing as well as loathing of her gender. Ruby, who says "witches are whores", is a witch herself, and the unnamed woman who calls Kate a slut is disguised as Kate at the time.
Consider also the episode title "99 Problems".
I got ninety-nine problems but a bitch ain't one
, is the title's origin. The title was evidently chosen because the episode is the series' ninety-ninth, but seriously, couldn't they have named the episode "99 Luftballons"? The lyrics of that song are even thematically appropriate to the mytharc, what with the plot of season five being the war of heaven vs hell vs earth. Of course, the lyrics of "99 Problems" are thematically appropriate to the episode "99 Problems"; this is the episode where the monster of the week is the Whore of Babylon (in an RTC-like definition of 'literal'), and one of our supposed heroes says "On a good day, you get to kill a whore".
Don't let me get started on the number of female characters who, as either the monster of the week or monster-bait, exist only to be killed, usually in a sexualized manner. I'll let sisabet and sockkpuppett of Livejournal take care of that, in their marvelous vid
Women's Work
. Trigger warnings. So many trigger warnings for death and violence and sexual violence. sisabet says, "we love our goddamn show. Just so it's clear and all - the vid could have been made using *anything* - seriously. Look around, this shit is *everywhere*", and she's right. It is everywhere.
That's the problem. It is everywhere.
Supernatural
is a misogynist show. It is not possible to look at the patterns of how it treats its female characters and deny that it is a misogynist show. But the problem is less with the show and more with the way it's a feminist show in a very misogynist world.
Look back at those promo pics for
Gossip Girl
and
90210
. The women outnumber the men. Y'know, just like women outnumber men on the planet. The women are the prominent ones in the
Gossip Girl
pic, almost like they're the important characters. Everybody's the same size in the
90210
pic, almost like everybody's the same importance. Contrast this promo pic for
Criminal Minds
:
The important characters in
Criminal Minds
, according to that picture, are the three at the center, three of the four men in a cast of seven. The fourth man is, of course, the character whom the actor describes as the show's "
damsel in distress
".
Look at this collection of promo pics from various American visual media.
Front and center of every single pic and larger than everyone else, the leading white guy, even for shows such as
Fringe
where the lead is female, or
Detroit 1-8-7
where the cast is majority minority. As giandujakiss points out, it's obvious who the most important person in the room is, in every one of the shows. As tablesaw points out, every one of those promo pics is photoshopped, somebody "very carefully deciding who will be in front of whom and in what scale."
Supernatural
might not have female leads, but it has female characters whose lives don't revolve around men.
Supernatural
's characters might use sexist slurs all the time, but they also say in so many words that women can do the same job the male leads do. How sad is it that that's all it takes to make
Supernatural
a feminist show?
_______________
[1]
A movie passes the test if
: It has to have at least two women in it, who talk to each other, about something other than a man.
--
MercuryBlue
____________________________________________________________________________
The Slacktiverse is a community blog. Content reflects the individual opinions of the contributors. We welcome disagreement in the comment threads, and invite anyone who wishes to present an alternative interpretation of a situation to write and submit a post.